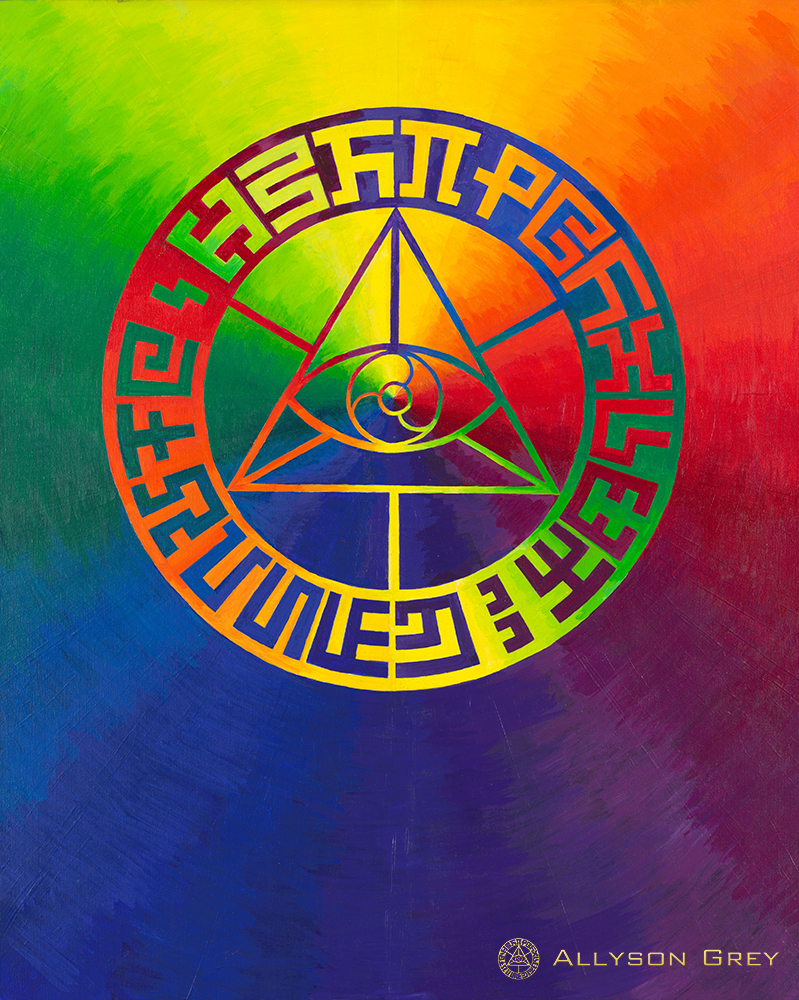 Ask Allyson: Start a non-profit?
Dear Allyson,
Considering my limitations and disabilities, the cost of living drifts further out of my reach. I hardly tattoo anymore after years of complying with the cheap nonsense people request. Instead, I've been focusing more on my painting. To earn what I need, I've consider reintegrating a sacred tattooing model for spiritually hungry clients and send others to a new traditionally oriented tattoo shop that recently opened down the block.
I've also been thinking about establishing a non-profit organization based on love and art as a community outreach and a way to serve spiritual creative people. In the past, I have hosted a weekly HeArt Church ceremony at home, based on what I've learned from CoSM and others about art as a spiritual practice. Can you offer advice on how to do that?
I also have considered relocating, either closer to CoSM to become more active there or heading west or northeast, following the golden green road of cannabis legalization. I also recall your advise: "We grow where we are planted." Frankly, I'd, prefer building than running, or at least running toward opportunity instead of away from adversity and struggle.
A thousand blessings,
Rip
——————————-
Hey Rip,
Great to hear from you.
Devoting your life to service opens a door to a life of love and service. It is more rewarding but not necessarily easier than a life lived for survival alone. Moving is a lot of work. So many resources are lost or have to be shifted. It would surely be a transformation in consciousness, but maybe that is possible without moving.
To turn Chapel of Sacred Mirrors, CoSM into a non-profit 501c3 we hired a lawyer. In the mid-90's, a collector and friend, who could only donate from her family foundation to a legitimate non-profit, gave us $5,000 to cover legal and application costs. Doing it yourself with information and forms filed through the internet, the application could cost less. Essay questions included a mission statement articulating "What Is CoSM?," and described the offering and who benefits from the new charity.
In 2004, while CoSM operated in Chelsea, another collector encouraged us to apply for church status and funded a specialized lawyer. The IRS and State Attorney General want to know who benefits and what is offered. CoSM was doing everything churches do — a regular ceremony, public events of a spiritual nature, weddings, baby blessings, memorials and liturgy, writing used in public religious worship. CoSM Press published Art Psalms. Satisfying the IRS & State Attorney General approval, churches with property may have to sue their town to have church property taken off the R.E. Tax role. This took six years and cost plenty. CoSM is fully recognized as an Interfaith Church. To find out more about becoming a church, check out Start Church online.
Here's another idea. Check out Patrion online. As an independent artist, your can encourage friends to provide even a $10 monthly stipend. You would be required to provide something in return — drawings, gifts, videos of you painting and talking about painting…evidence of your work on a regular basis. Different levels of support get more or less "stuff." It's motivating. Patrion, possibly a "child of Kickstarter, takes a percentage. These online tools really work by kicking our ass into gear to produce and follow through with backers. Many great models to learn from appear on the Patrion site.
Health is a function of participation. We think moving closer to CoSM is a good idea. Joining CoSM events can raise the love & happiness factor. Meditating by the fireplace and walking in the woods any day CoSM is open is a regular practice for some members. CoSM now has mid-week meditation, yoga and kirtan, all after work hours. More uplifting programs, workshops and opportunities are coming.
Love hearing from you.
Allyson