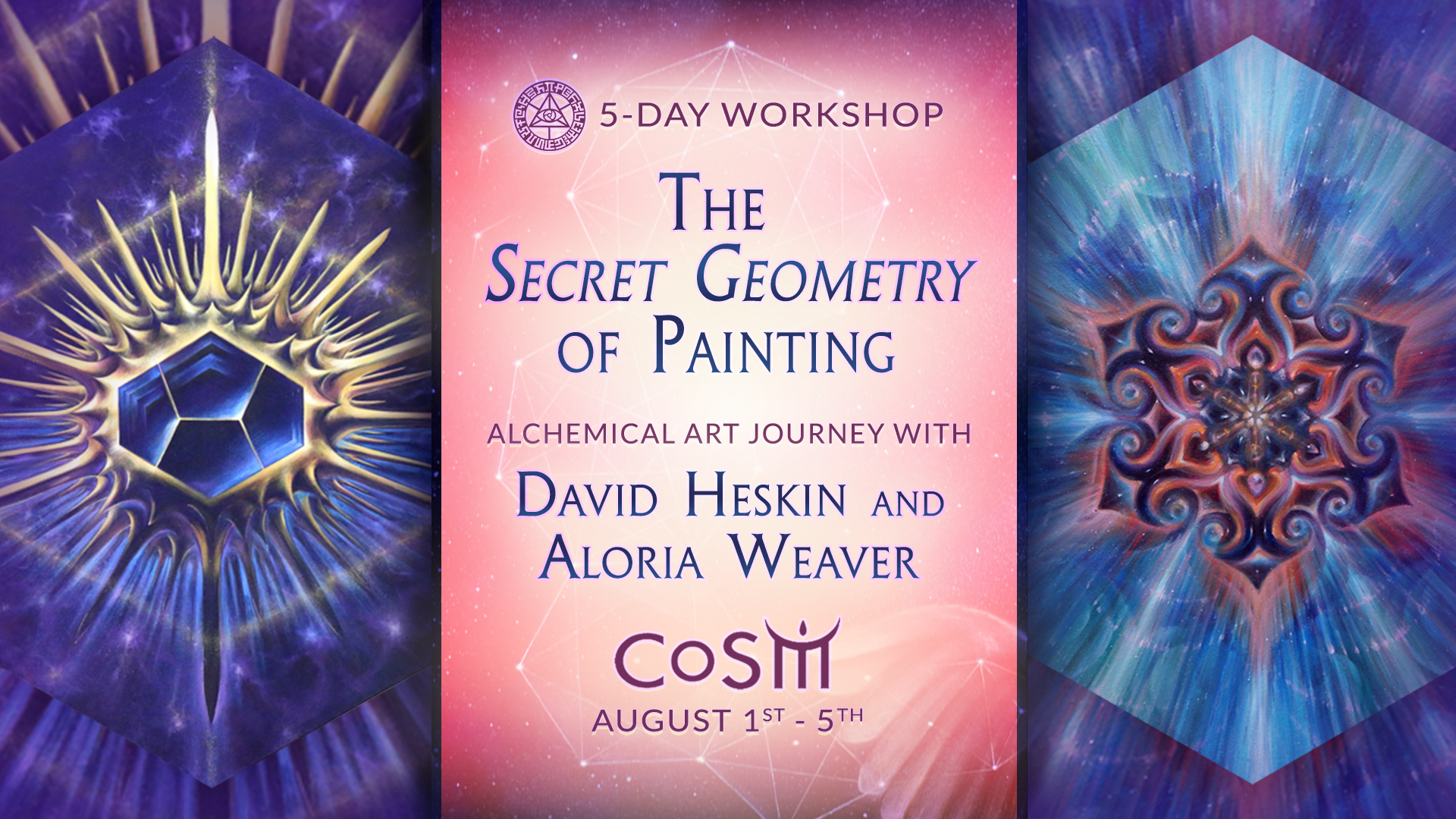 The Secret Geometry of Painting with David Heskin & Aloria Weaver
The Secret Geometry of Painting
5-Day Immersive Art Journey
with David Heskin & Aloria Weaver
Join Aloria Weaver and David Heskin for their 5th annual CoSM workshop.
This 5-day workshop is a balanced synthesis of sacred geometry and painting, where each new skill is a cosmic metaphor on the path of the visionary artist.
Engaging the mind-manifesting capacities of geometric mediation, the daily lessons will propel us into an inner world filled with rich symbology.  Using only a compass and straight edge, the Geometer creates symbolic maps of the universe and the forces of nature. Using the self-evident truths that sacred geometry offers, these cosmograms bridge the numeric aspects of geometric space with color and the elemental aspects of painting and alchemy.
By activating the left-brain functions of precise geometry, the right-brain creativity ascribes mythic importance to the shapes carved with the compass and scribe. Through geometric color logic, the creative impulse is again allowed to roam free in spontaneous painting. By engaging both hemispheres, the artist rises to a greater level of attention and awareness.
Inspired by Goethe's quote that "Geometry is frozen music", we'll explore the geometrical division of the picture plane, as a means to create visual harmony within the painted image itself. Looking at historical and modern examples of these principles in action, the artist is empowered to become a conductor of the various instruments utilized in in making impactful art.
The core goal of this workshop is to connect to a deeper reality through art and whole-brain activation. The works made in the class are simply artifacts of a cosmic state of being that is generated through the practice.
In their signature teaching style, Aloria & David bring together the best of both worlds; time-tested technical transmissions as the foundation for personal artistic expression. In 5 days, students will create a number of drawings, plus 2 small painting studies and a more ambitious painting to be developed in class.
Through numerous presentations and hands-on practice, a deep appreciation is cultivated for the ancient and modern artist's materials. To relate to pigments as the result of larger forces helps us to wield our artistic instruments with a magical presence and embedded crystallization of our intentions.
Materials List:

 Sketchbook: 9 x 12 minimum
Geometer's compass
Ruler: 12 – 18" or a selection of sizes
Palette Knife
Oil Palette
Brushes – Soft synthetic oil brushes
    filbert
    flat
    round liner
Optional:
Your favorite colors of acrylic / oil paint (a basic selection will be provided by instructors)

**We will provide a wide selection of studio materials including paint, panels, mediums and a small selection of brushes and other supplies.

Instructors: David Heskin & Aloria Weaver
Aloria Weaver
and
David Heskin
have each been oil painting for over 20 years. They continue to develop their artistic studies in numerous art lineages which are synthesized into their original compositions and instruction:
– Traditional Egg Tempera Icon Painting
– Classical Atelier Drawing
– Mischtechnik (Egg Tempera & Oil)
– Alla Prima Oil Portrait & Landscape Painting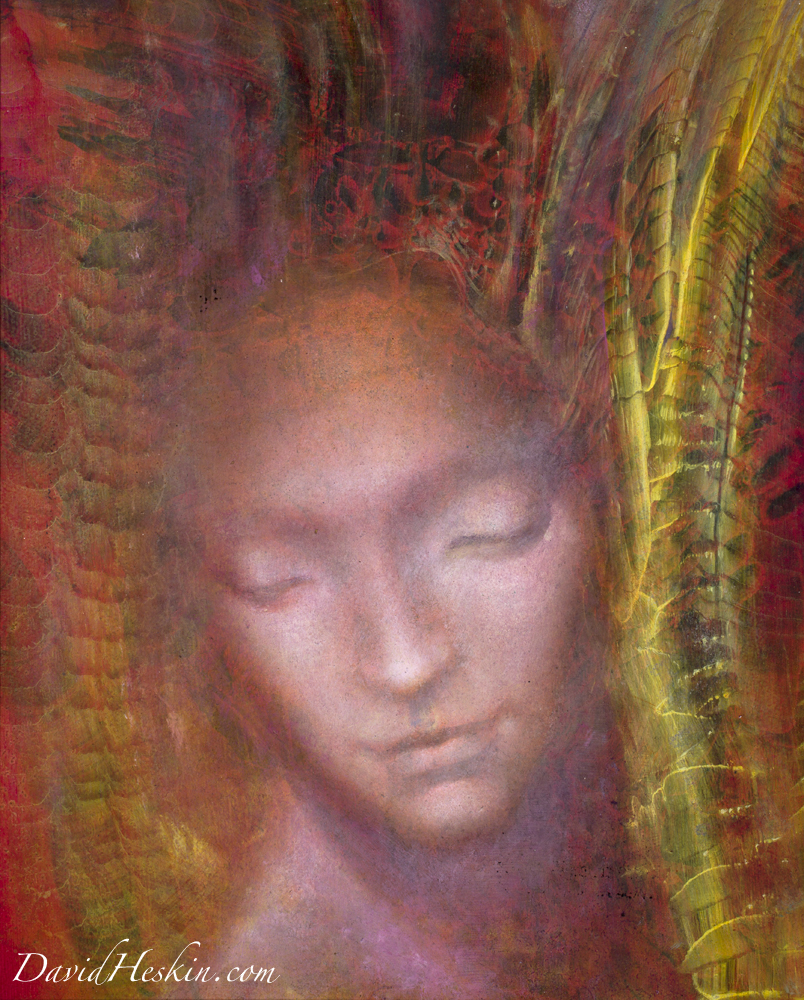 This symbiotic duo travels internationally on an annual basis to exhibit and teach. Their ongoing art pilgrimage has taken them to such places as Austria, Spain, France, Italy, England and Hawaii, in addition to their coast-to-coast presence at a multitude of events and exhibitions within the continental United States.
Essential to their creative process and classroom instruction are their own handmade oils and mediums, which trace their roots back to the old masters and cannot be found in art supply stores. In learning about the natural sources of traditional and modern painting materials, students cultivate a deeper appreciation for the tools, science and evolution of the craft across millenia.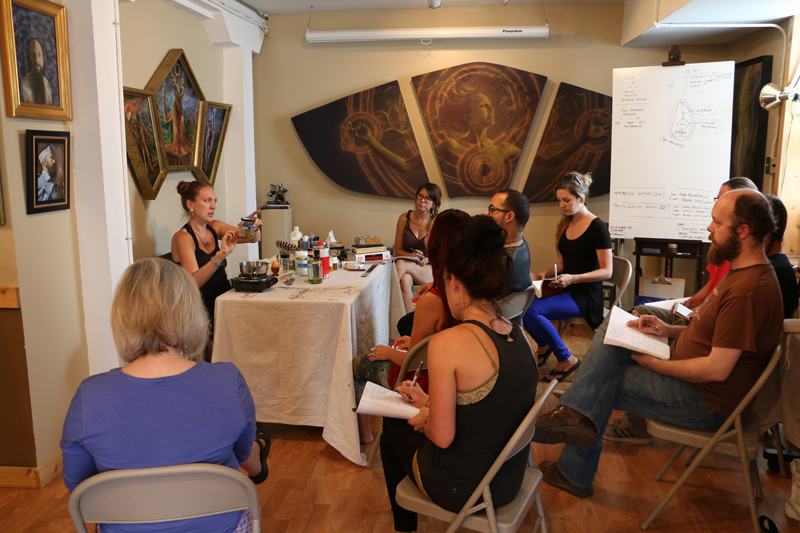 Opportunities to study with Aloria Weaver and David Heskin range from long intensive retreats to 3-day weekend workshops, with annual courses in Colorado, on the east coast, west coast and internationally. From 2013-2016, Aloria and David were trimester instructors at the Vienna Academy of Visionary Art in Austria, which included the Visions in the Mischtechnik Seminar in Italy, 2015.
Over the years, hundreds of students have learned from their dynamic teaching style. In the presence of their art and personal instruction, it is common for people to experience a creative catharsis wherein profound realizations arise spontaneously.
Philosophy
"We believe in presenting a logical approach to every stage of the process from start to finish. Though the mediums, materials and processes of indirect oil painting and mixed-technique painting can be intimidating, we help students build relationships with their art by becoming re-enchanted with the elemental materials of our trade.
By actively engaging creative and analytical processes in tandem, our students gain proficiency in both the Theory and Practice of Painting, which can be applied to their personal approach to art.
We often say that we teach technique based on solid principles rather than style. Our students often have visions for their artwork that lie beyond their scope. It is our work to help bridge the gap between an artist's current skills and future goals."
Visit David and Aloria online for additional information on classes, extensive online portfolios, biographies and more:
Aloria Weaver
David Heskin
Class Schedule
Morning Sessions: 10am – 1pm
Afternoon Sessions: 2:30pm – 6pm
Evening Open Studio: 7pm – 10pm
DAY 1: Opening the Circle
Evening: 7pm – 10pm
Orientation
Presentation
Preliminary Geometric Exercises
DAY 2: Sacred Geometry in Theory & Practice
Morning:  10am – 1pm
The Holy Triad
Division of Space by 3
Geometric Meditations – Drawing Exercises with Compass & Edge
Afternoon: 2:30pm – 6pm
The Four Elements
Division of Space by 4
Geometric Meditations – Drawing Exercises with Compass & Edge
Evening: 7pm – 10pm
Presentation: Color Logic & Geometric Composition
Open Studio: Complete Geometric Drawings for small study paintings, based on three-fold & four-fold geometry.
DAY 3: The Alchemy of Paint
Morning:  10am – 1pm
Drawing & Underpainting
Charcoal Transfer & Ink Drawings based on Geometric Drawings
Imprimatura
Heightening with white
Afternoon: 2:30pm – 6pm
Color Mixing, Local Glazing & Overpainting
Chromatic Neutrals & Color Mixing Exercises
Overpainting in Oil on Study Paintings
Evening: 7pm – 10pm
Presentation: Wielding the Elements
Open Studio:
Overpainting in Oil on Study Paintings
Crystallize Drawing for Main Painting Project
DAY 4: Distilling the Essence
Morning:  10am – 1pm
Drawing & Underpainting
Complete Drawings for Main Painting Project
Charcoal Transfer & Ink
Imprimatura
Heightening with white
Afternoon: Local Glazing & Overpainting
Local Glazing with Oils
Painting Wet-into-wet with Oils
Evening: 7pm – 10pm
Overpainting in Oil on Main Painting Project
DAY 5: Completing the Circle
Morning:  10am – 1pm
Finishing touches in Oil
Student Exhibition & Presentation of the Artwork
Closing Circle
Rooms are available for rent in the Grey House, CoSM's fully renovated Visionary Victorian guest house.
Accommodations for this event must be booked directly through Hospitality. Please call 845-297-2323 ext. 104 or email us at [email protected]
To plan a future stay, please view our Booking Calendar.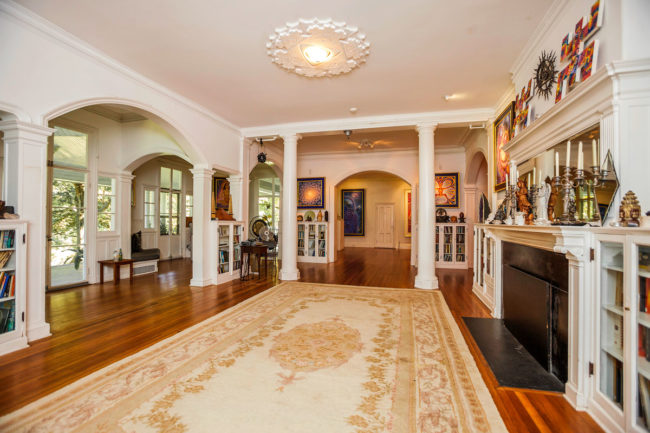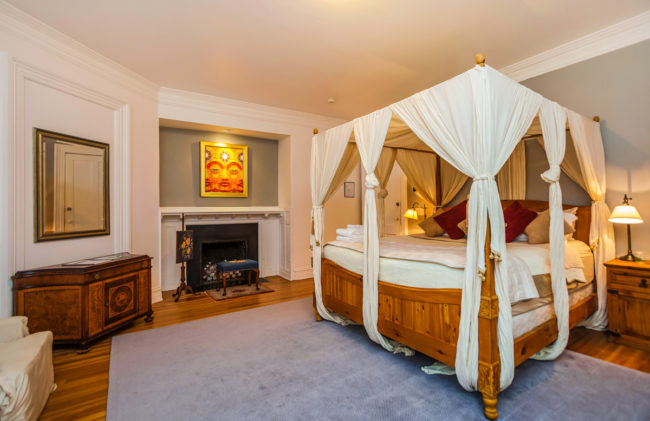 The artwork of Alex Grey & Allyson Grey plus many other visionary artists are on display in the guest house.
CoSM, Chapel of Sacred Mirrors, 46 Deer Hill Road, Wappingers Falls, NY 12590.