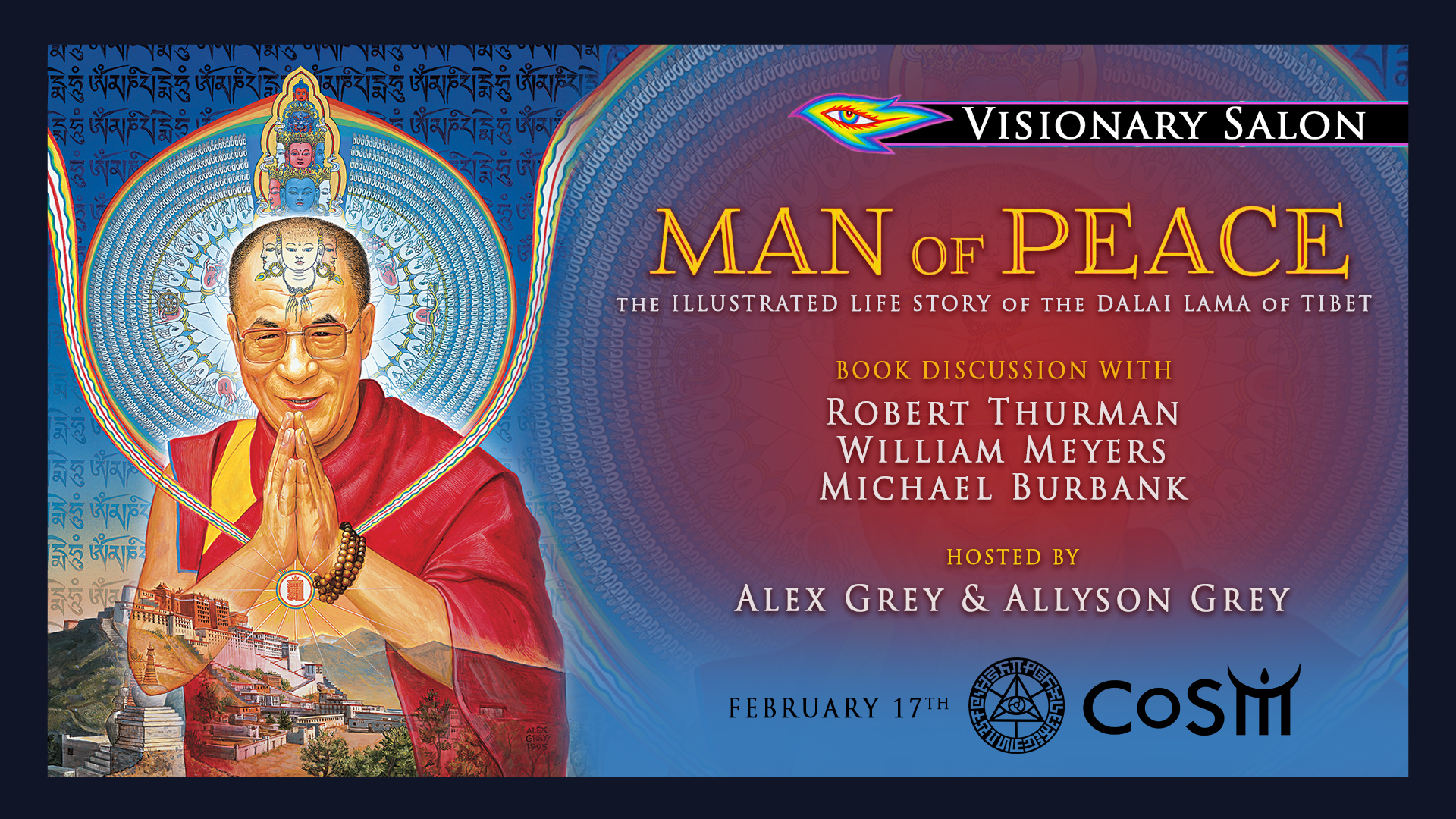 Visionary Salon: Man of Peace Book Discussion
Visionary Salon:
Man of Peace Book Discussion
with Robert & Nena Thurman, William Meyers, Michael Burbank
Alex Grey & Allyson Grey
Join author's & artists, Robert Thurman, William, Meyers, Michael Burbank, Alex Grey & Allyson Grey for a discussion on the book Man of Peace: The Illustrated Life Story of the Dalai Lama.
The story of the Fourteenth Dalai Lama, the world's foremost proponent of peace and nonviolence, as depicted in this full-color graphic novel, tells in its second and third parts of his educational training in childhood to ascend to the height of Buddhist learning and the political leadership of Tibet. He attains maturity and bodhisattvic power just in time to cope head-on with the invasion and occupation of Tibet by Communist China. The clash of implacably opposed cultural forces over the years of occupation leads finally, in 1959, to the young Dalai Lama's escape, with his family and closest followers, into exile in India.
The fourth through tenth concluding parts relate the life and heroic activity of His Holiness in exile, as spokesperson for the vast community of Tibetan exiles now established in countries around the world. Still longing for the recovery of an autonomous, culturally free, homeland, the Dalai Lama and his people deal with unrelenting oppression under occupation, while continuing to live the Tibetan lifestyle of compassion, devotion, and indefatigable good cheer.
This work was conceived by William Meyers, its script written in collaboration with Robert Thurman as editor, keeping a promise made to the Dalai Lama in 1993. It has been expanded and refined over a decade; produced by the financial and organizational support of Tibet House US, the U.S. Cultural Center of H. H. the Dalai Lama; initiated artistically by master of both traditional and modern Tibetan art, Rabkar Wangchuk; further developed visually by a graphic artist team led by Steve Buccellato; and completed in book form with the technical assistance and production coordination of digital artist Michael Burbank.
Acknowledgement by Alex Grey:
"I am honored William Meyers invited me to be part of the MAN OF PEACE project with such respected colleagues. It was his inspiration that lead me to paint the portrait in 1995.  My wife Allyson and I first saw the Dalai Lama speak at Harvard University in 1979 and then took a five day course in 1981 at Harvard with His Holiness on Shantideva's Guide to the Bodhisattva Way. Throughout the decades we have studied with the Dalai Lama and our whole family received the Kalachakra Initiation at Madison Square Garden in 1991. Finally in 2005 I got to meet His Holiness face to face and share my art, giving him a copy of the portrait.  He was so gracious and loving, he is like everyone's long lost best friend, reminding us of what is most important, bringing love, wisdom and healing to the world.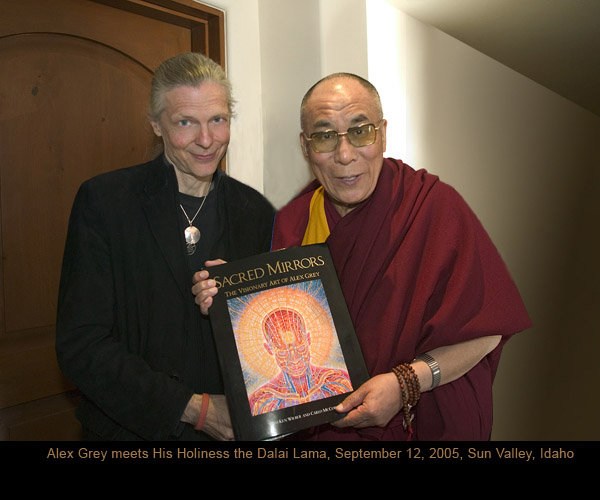 Dalai Lama is a portrait of the Tibetan religious leader and representative of the bodhisattvic ideal of wisdom and compassion. He is shown in a prayerful blessing posture, which is his common greeting. He describes himself as a humble monk, but his followers know him also as the worldly incarnation of the Buddha of active compassion, Avalokitesvara, who is shown translucently behind the monk. The prayer to this Buddha is also the national mantra of Tibet, Om Mani Padme Hum, and it is repeated in the background as a manifestation of the sky-like nature of mind. The Dalai Lama's magnificent residence in Tibet, the Potala, is also seen. For the past four decades the Chinese military has occupied Tibet, destroyed monasteries, and committed atrocities against the Tibetan people. Nevertheless, the Dalai Lama, who lives in exile from his homeland, remains one of the world's foremost proponents of non-violence and peaceful resolution."
Schedule
12:00 pm –
CoSM Open to the Public
12:30 pm – 5:00 pm –
Urban Permaculture with Andrew Faust.
Learn More.
7:30 pm –
Book Discussion
8:30 pm –
Break
9:00 pm –
Book Discussion
10:00 pm –
End of Event
11:00 pm –
CoSM Closed
Rooms are available for rent in the Grey House, CoSM's fully renovated Visionary Victorian guest house.
For assistance in booking your stay, please call 845-297-2323 ext. 104 or email us at [email protected]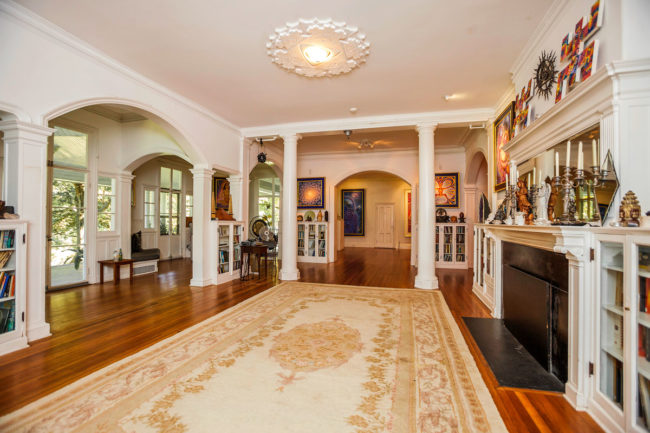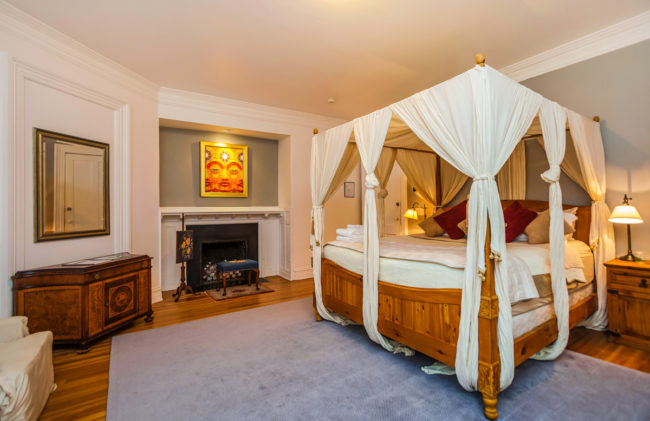 The artwork of Alex Grey & Allyson Grey plus many other visionary artists are on display in the guest house.
CoSM, Chapel of Sacred Mirrors, 46 Deer Hill Road, Wappingers Falls, NY 12590.