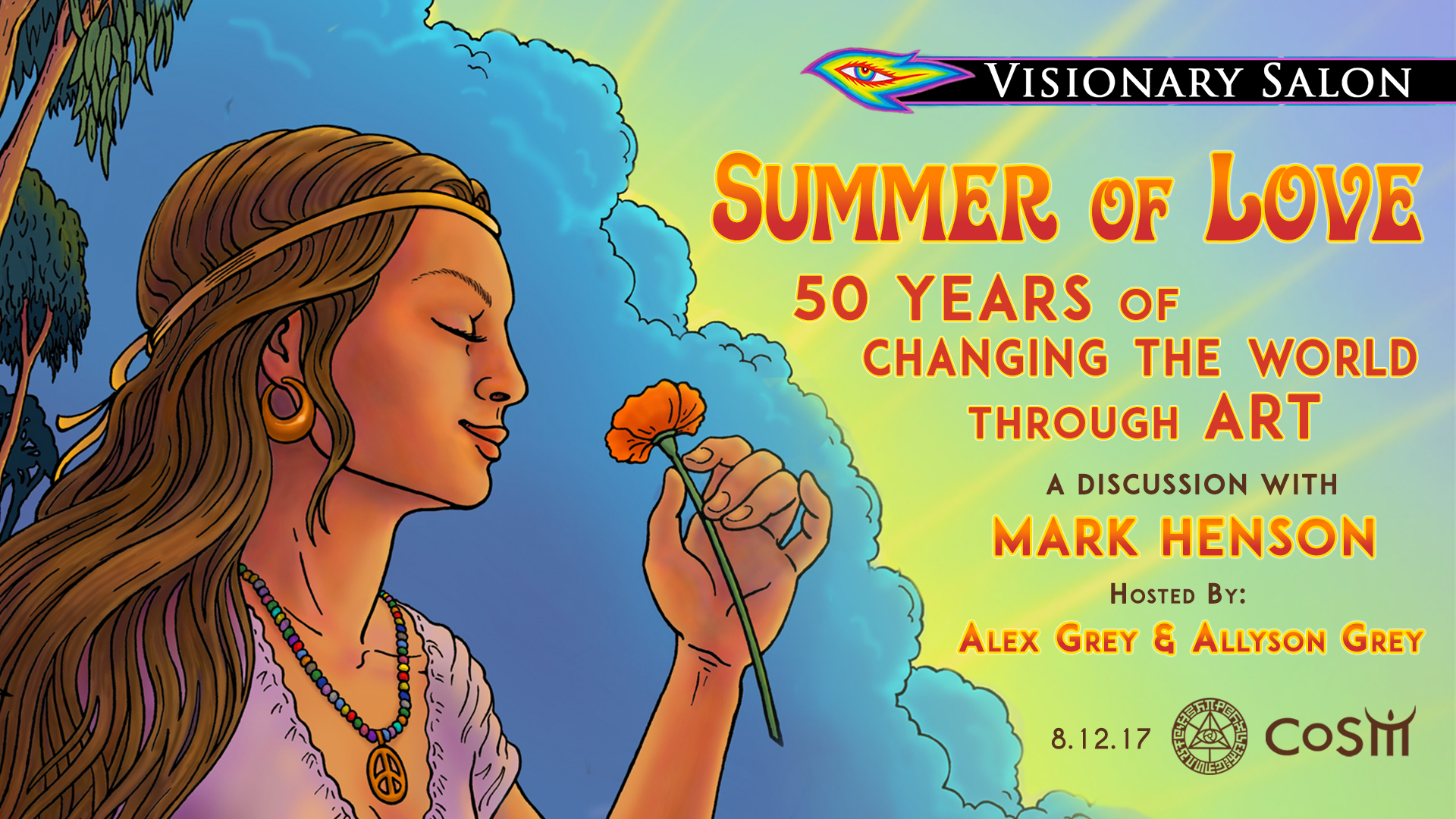 Visionary Salon: Summer of Love with Mark Henson, Alex Grey & Allyson Grey
Summer of Love:
50 Years of Changing the World Through Art
A Discussion with Mark Henson
Hosted by Alex Grey & Allyson Grey
50 Years ago there was a flowering of artistic and musical activity that seemed to magically appear everywhere simultaneously. Much of this creative energy was centered around the Haight-Ashbury neighborhood in San Francisco.

Art by Wes Wilson – © Bill Graham Archives, LLC. All Rights Reserved
The many so-called "hippies" living there espoused a do- it -yourself philosophy when it came to art and music making. Out of this vortex of creativity a new-yet-old style of popular art developed on the streets, mostly based on advertising for musical concerts, "happenings", and hippie businesses. As in Paris in the 1880's, much of this advertising was in the form of posters that were quickly designed and printed, which were then placed on storefront windows and telephone poles throughout the city. These posters became immediate collectors items, in the sense that any kid who could get their hands on one immediately tacked it to their bedroom wall, to the chagrin of puzzled parents. Love it or hate it,the unique coloring, calligraphy and "psychedelicness" of these posters has been a significant influence on the world of design that can still be felt in the art we see today.


Art by Wes Wilson – © Bill Graham Archives, LLC. All Rights Reserved

Apart from advertising there was also a large amount of politically-charged artwork created in the form of posters used to promote a wide variety of political causes, as well as promoting the general themes of peace and love. While many of these posters borrowed from the artistic ideas of the concert posters, or were created by the same artists, many demonstrated a simpler style, somewhat related to the social realism of the '40's. All of this art was created with the specific intention of fomenting positive social changes in a society gone crazy.
Join Mark Henson as he talks about Art and Artists from these two branches of the Visionary Art family tree, how they affected his own artistic efforts, and how they evolved into the advertising, political propaganda, and Visionary Art of today. A Free- Wheeling conversation will follow. with Alex and Allyson Grey, Mark and you!

Art by Wes Wilson – © Bill Graham Archives, LLC. All Rights Reserved
Event Schedule
1:00 pm – Psychedelic Poster Art Workshop with Mark Henson (Learn More)
7:30 pm

–
Summer of Love: 50 Years of Changing the World Through Art
8:30 pm

–
Discussion with Mark, Alex Grey & Allyson Grey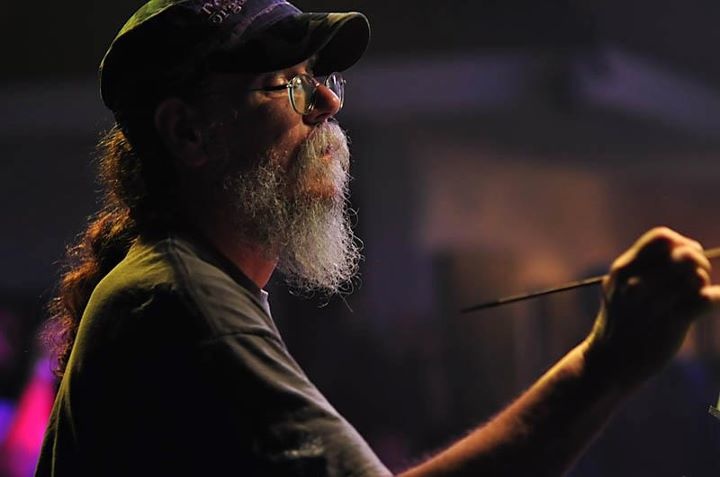 Visionary Painter Mark Henson is well known for his political, erotic and spiritually charged renderings of the intersection of the metaphysical cosmos with hard- core realities. He has been a practicing artist over 50 years, and was a visiting instructor at the Vienna Academy of Visionary Art.
Mark was born and is still living in Northern California, and attended the University of California, Davis, receiving a degree in studio art in 1973. He has been a professional artist ever since, working with a wide variety of mediums, primarily oil painting at present. He has co-founded several gallery ventures, traveled extensively in Asia and elsewhere, and now operates Sacred Light Studio from his home out in the countryside north of San Francisco.
About his art he says, "I believe that art can have the ability to catalyze positive social and cultural changes. In addition to stimulating our visual cortex, Art has the amazing magical power to evoke profound emotional intensity as well as to provoke intellectual thinking. My aspiration as an artist is to create compelling images of beauty and power that serve to promote our Conscious Evolution as human beings, and to show us how to live in a peaceful world. To this end I like to present images exploring themes of Awakening Consciousness, Divine Sexuality, Political Realities and Living in Harmony with Nature."
With Your Hosts:
Alex Grey & Allyson Grey
Alex Grey, world-renowned artist, poet, and author, is best loved for his paintings which portray multiple dimensions of reality, interweaving biological anatomy with psychic and spiritual energies. His books, Sacred Mirrors, The Mission of Art, Transfigurations, and Art Psalms, trace the development of his work and mystical experiences that shaped his spiritual artistic life. Alex's most recent monograph, Net of Being, addresses how his art is evolving the cultural body through icons of interconnectedness. www.alexgrey.com
Allyson Grey
, artist, writer and social sculptor, has co-written and edited a dozen books and all seven volumes of CoSM Journal of Visionary Culture. Since 1975, Allyson has been artistic partner and studio mate of artist, Alex Grey. With a Master of Fine Arts from Tufts University, Allyson has been an educator and muse to artists for over 30 years.
 Alex and Allyson are the parents of actress, Zena Grey. allysongrey.com Together, the Grey co-founded the Chapel of Sacred Mirrors, CoSM, an interfaith church since 2008, celebrating creativity as a spiritual path.
Rooms are available for rent in the Grey House, CoSM's fully renovated Visionary Victorian guest house.
For assistance in booking your stay, please call 845-297-2323 ext. 104 or email us at [email protected]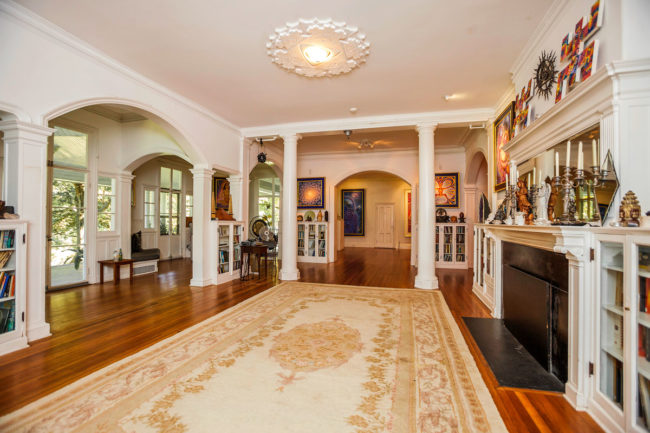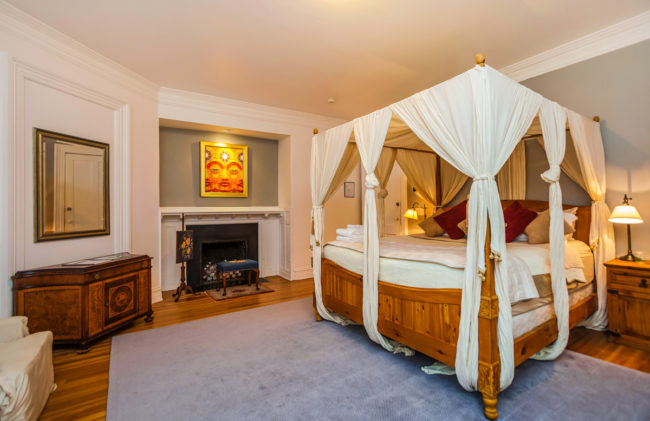 The artwork of Alex Grey & Allyson Grey plus many other visionary artists are on display in the guest house.
CoSM, Chapel of Sacred Mirrors, 46 Deer Hill Road, Wappingers Falls, NY 12590.